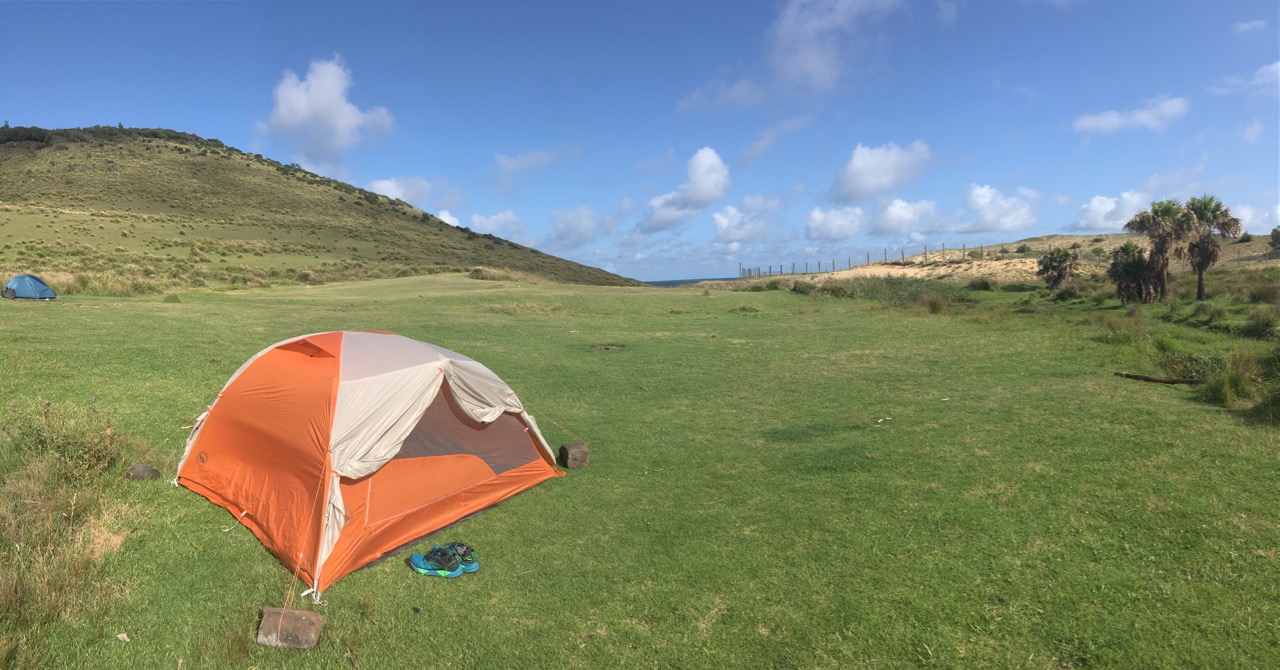 The Coast track, Royal National Park
Since my move to Sydney in early 2015, I have discovered that the city offers fantastic opportunities for hiking. I have done several day walks and car campings. And finally I went for my very first overnight hiking last week. I prepared for it in the last few months doing my research as well as buying right gears so that my first solo would be enjoyable without dramas! Here's what I've done and what now I think I could have done better.
The track
The Coast track is a well loved walk and there are plenty of resources you can find on the net. Here are a few of them that helped me the most:
Itinery
Day 1
9-ish Redfern station to catch a train to Helensburgh
10:23 Helensburgh station, change to the next train
10:32 Otford station
Noon Passing Palm Jungle
12:30 Burning Palm beach
14:00 North Era camping ground
Plenty of time for enjoy the view and dinner
7:30 Sunset, reading, sleeping
Food
Breakfast at home
A cliffbar during walk for snack/lunch
Half a waffle for snack in arvo
Backcountry dehydrated meal (Roast Chicken) for dinner
Day 2
5:18 Woke up and went to the beach to see sunrise
6:10 Breakfast
7:40 Packed and ready to set off
8:30 Garie beach where some civilisation is
10:50 Wattamolla where I had my lunch (toilet)
12:00 Marley beach
13:20 The Coast track entrance (there's a toilet)
13:50 Ferry to Cronulla at Bundeena wharf
15:40 Back home
Food
A cuppa in the morning
Backcountry Beef Teriyaki for breakfast
A cliffbar during walk in the morning
A tuna can for lunch at Wattamolla
Gears
I tried to pack light but also willed to learn by trial and error. For example, I could leave my gas stove and bring only dry food as it was only a 2-day summer trip. But I wanted to see how I would like cooking.
Pack
I didn't have a backpack that is suitable for a multi-day hiking. I bought an Osprey Atmos 65L (size S) at Paddy Pallin on (early) Christmas sale.
I also considered Osprey Aether 70 which has a rain cover plus a few more cool features. However I ended up getting Atmos for its lightness (1.92kg vs. 2.307kg), adequate size (forces lighter packing), and price (RRP $359.95 vs. $419.95. Aether wasn't on sale either).
The pack easily accommodated everything I needed for the walk and provided comfort throughtout the walk. I am very happy with the purchase.
Shelter
Big Agnes Copper Spur HV UL3, 1.7kg
When I purchased my , I was planning to do Cape to Cape in Western Australia with my sister.
Sleeping system
Kathmandu Nomadic insuLITE Sleeping Bag Regular 1.1kg
Kathmandu Ascent Self Inflating Regular Mat Hike 38mm 0.95Kg
Cooking system
Snow Peak GigaPower Stove auto 106g
Snow Peak Trek 900 175g
Kathmandu Titanium Cutlery Set 55g
The stove was purchased from CampSaver with my tent when they offered free international shipping.
The cooking pot was purchased from Massdrop.
Water
2.5L bladder
Klean Kanteen Reflect 18oz (532ml)
A 600ml frozen plastic bottled water
Water consumption is highly personal, I wasn't sure how much water I would consume for hydration and cooking.
I took a 2.5L hydration pack from my Osprey Manta 20. Atmos 65 doesn't come with a bladder, but it has an inner compartment for a water reservoir and a hole for tubing.
Food
2x Backcountry meals (roast chicken and teriyaki beef) from Mountain Designs for 50% off
2x Cliff bars
2x gummys
1x waffle from Coles
1x SiS Go Isotonic Energy 60ml gel
2x SiS Go Hydro tablets
Hotel tea bags and coffee sachets I took from business trips
Clothing
Brooks Casadia 12 trail running shoes
Injinji Mid-weight Trail socks
Injinji Light-weight liner + Kathmandu ankle socks
A shorts
Kathmandu long hiking pants
Misc
Sea to Summit microfiber towl
Kathmandu Blackbird 120 Running Orienteering Head Torch
Printed topo maps purchased from Sydney Coastal Walks
Retrospect
Items unused
Fuji X-M1 camera
An instant ramen bowl
Silva compass
Equip Rec 2 First-aid kit
I am not ashamed of the rest of items unused obviously ;-)
Things I could do better
I thought I would take high quality photos with my X-M1, but it was kept in the top compartment during the whole trip. I am not sure whether I would bring it to my hiking again.
I was going to eat ramen for lunch on day 2, but there were a couple reasons why I didn't. It was too hot when I arrived at Wattamolla where I planned to have my lunch. So I didn't want to bother myself to bring my stove out and boild water. And the ramen bowl would require at lease 300-400ml water which apparently was scarce resource. I had a bottle of water that I filtered at the toilet at Garie beach with my Sawyer Mini water filter, but for some reason I didn't want to use it unless I really needed to.
That being said, I could plan my meals better next time. I was happy with Backcountry meals
The track has many beautiful beaches but I only enjoyed them with my eyes and didn't have a dip. Partly because I was by myself most of the time so I didn't get in trouble in water. Another reason being that I worried about time if I could reach my destination in time. It turned out I had at least a couple hours of room each day.
I got my lower arms and helixes subburns as a result of a couple mistakes that I could have prevented. Firstly I wore a running cap that has only a front visor. Thus it couldn't protect my ears from the strong sunlight on the second day. Secondlt I only applied subscreen when I left the campground in the morning and didn't reapply. I also thought about wearing a long sleeve shirt, but didn't have one that dries fast.
Last but not least, I could plan my meals and snacks better. I was happy with Backcountry meals. However some selections weren't ideal. A tuna can in spring water was too heavy and bland in taste. Next time I would bring tuna packs with flavour for taste and convenience. I also learned that instant noodle bowls are not a very good hiking food when water supply is limited.